Small flat die pellet feed line
Small flat die pellet feed line

Key words: Hammer mill Vertical mixer Screw conveyor Pellet machine

Features: Cheap price, simple structure, wide applicability, small space-occupancy, high efficiency.

For use: This unit is the first choice for medium and small feed processing plants, breeding plants, etc. It is suitable for chickens, ducks, geese and poultry, pig, cattle and sheep livestock.

Why we recommend this Small flat die pellet feed line?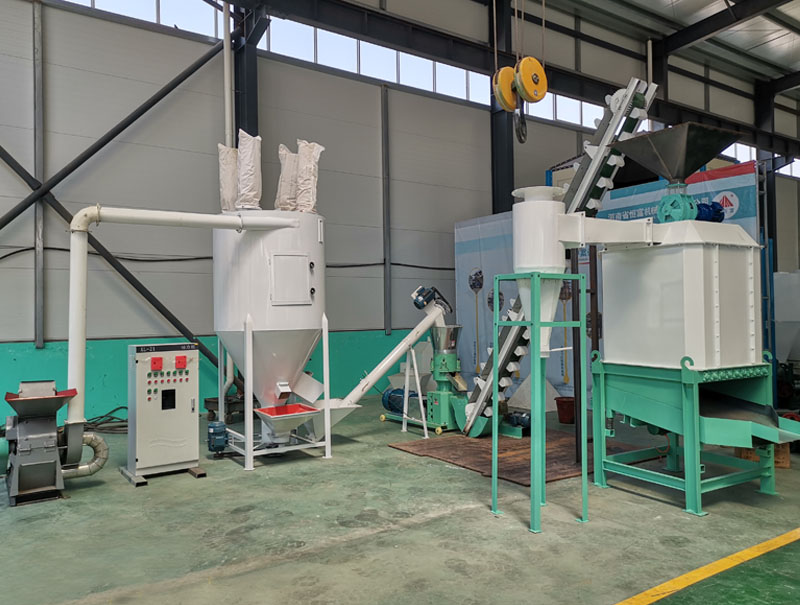 This unit use Hammer mill, crush materials by hammer. It has large feeding port, suitable for a variety of raw materials, can crush corn raw materials, straw, soybean meal, etc.

Product parameters:

MODEL

9KLP-150

9KLP-180

9KLP-210

9KLP-260

9KLP-300

(Diesel type)
9KLP-180

Power(kw)

3/single phase 4


5.5

7.5

18.5

22

15hp

Capacity(kg)


230

300

500-600

800-1000

180-200

After crushing, applicable with vertical mixer, small space-occupancy, high efficiency,simple structure, easy to load and unload. Evenly mixed materials by screw conveyor to the Pellet machine, pressed into pellets, pellet machine adopts our company's 9KLP flat die pellet.

This equipment is technologically advanced, the surface of the pellets produced by it is smooth and clean, moderate hardness, convenient to storage.

After the pellets are formed, they are conveyed to the cooler through a conveyor belt for cooling, cooperate with electric cabinet for integrated operation, easy and convenient.

We can tailored it to your needs, come and contact us to order!