semi-automatic 1-10t/h animal feed production making line
Email: andyzaoo@126.com
Whatsapp/Wechat: 0086 13419860671

Main equipments picture
This pellet feed line are suitable for large and medium-size farms and medium-sized feed mill plant.
Feed Pellets Processing Technology
Raw Material → Feed Grinding → Feed Mixing → Feed Pelletizing → Pellet Cooling → Pellet Crushing → Screening & Grading → Pellet Packing
Equipment Related to Complete Feed Pellet Production Line
Feeding pit →Feed Grinder →Feed Mixer → Feed Pellet Mill → Counter flow Cooler → Feed Pellets Crumbler → Feed Pellets Grading Sieve → Automatic Weighing and Packing Machine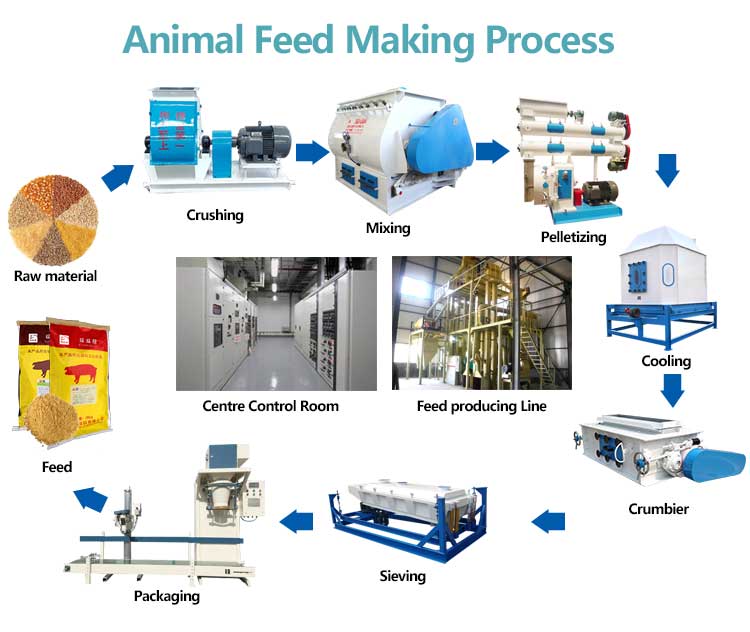 a. For pig, the pellet diameter is usually ø3.5-6.5mm.
b. For cattle, the pellet diameter is usually ø4.5-8mm.
c. For chicken, pellet diameter is usually ø3.2mm.
d. For fish, pellet diameter is usuallyø2.0, ø2.5, ø3.0mm.
e. For shrimps, pellet diameter is usually ø1.0-ø3.5mm.
Automatic animal feed processing line consists of 6 sections
1. Crushing Section
When the thickness of the raw material is >5 mm, the raw materials must be used for size reduction before the feedstock is sent to the hammer mill (crusher) to reach a diameter of less than 3 mm.
2. Mixing Section
Two open doors structure, discharge rapidly, no leakage, no residue. Multiform liquid adding system and can be matched with compressed air jetting system Suitable for mixing premix, poultry feed, aquatic feed, additives and chemical and medicine industries, etc
3. Pelletizing Section
Acting as the heart part of the whole processing line, ring die pellet mill through adjusting the rotational speed of screw feeder axis to obtain the suitable flow of material, through the enforced feeder, enter the pressing room to pelletize finally.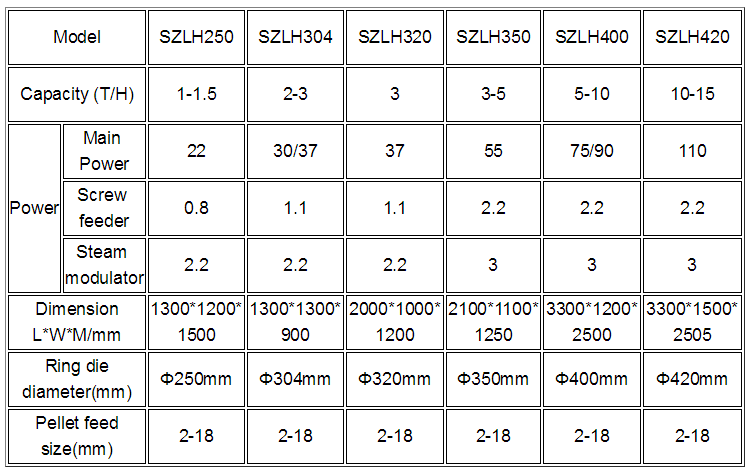 4. Cooling Section
After the pelletizing process, the temperature of the feed pellet is about 60-80 degrees Celsius, with a moisture content of about 15%. A Cooler must then be used to reduce the moisture content of the wood pellets to about 3-4%, thereby making the feed pellets easier to store.
5. Classifying screen
It is applicable for screening and classifying of mash or pellet feed. It is also can be used for cleaning of raw materials and classifyingof semi finished products after second grinding.
by large and medium feed mills.
6. Packing Section
After cooling and screening, the feed pellet must be protected from moisture and other environmental conditions. For this there is the packing process, which is effectively handled by our Semi-Auto Packing Machine.