semi-automatic 1-10t/h animal feed production making line
Email: andyzaoo@126.com
Whatsapp/Wechat: 0086 13419860671

This pellet feed line are suitable for large and medium-size farms and medium-sized feed mill plant.
Description for chicken food making machine
| | |
| --- | --- |
| Capacity | 1-10t/h |
| Production line classification | Manual production line, automatic production line |
| Main equipment | Feed hammer mill, feed mixer, Counter flow Cooler, pellet press |

Main equipments picture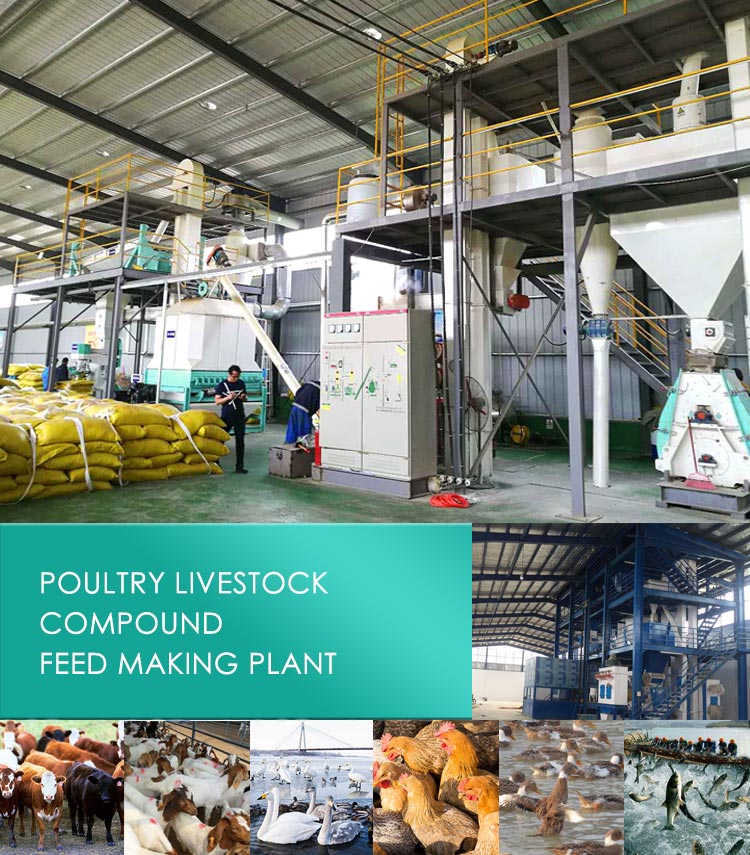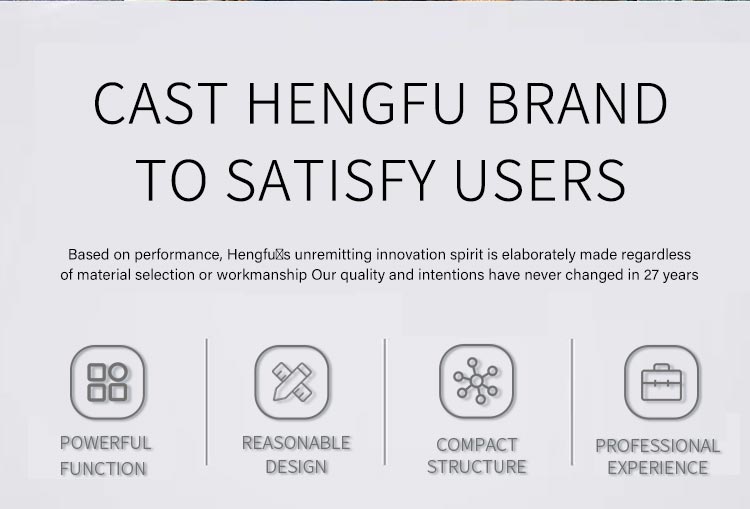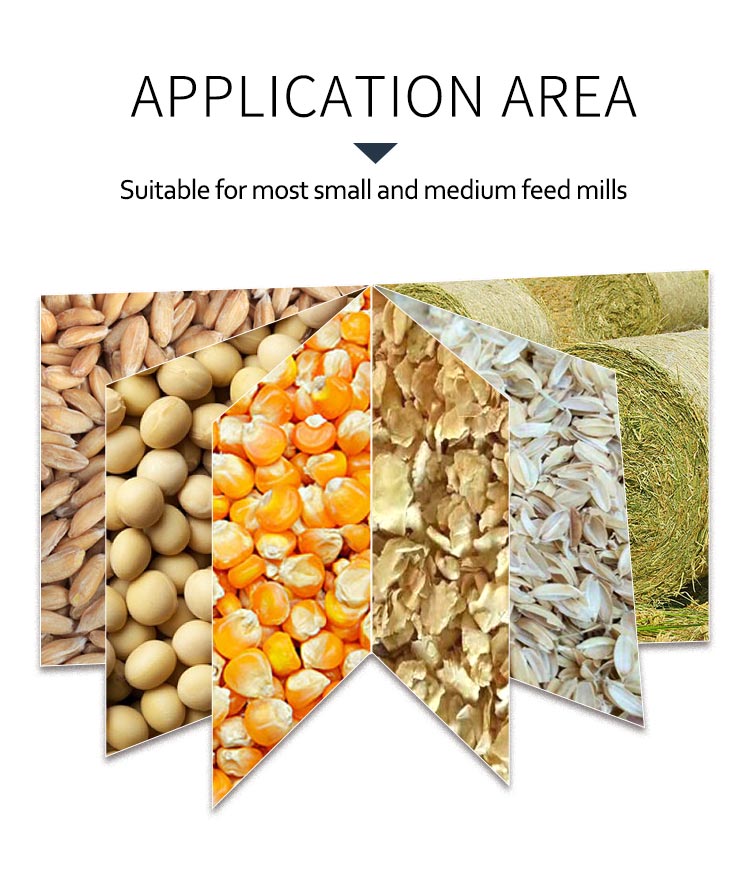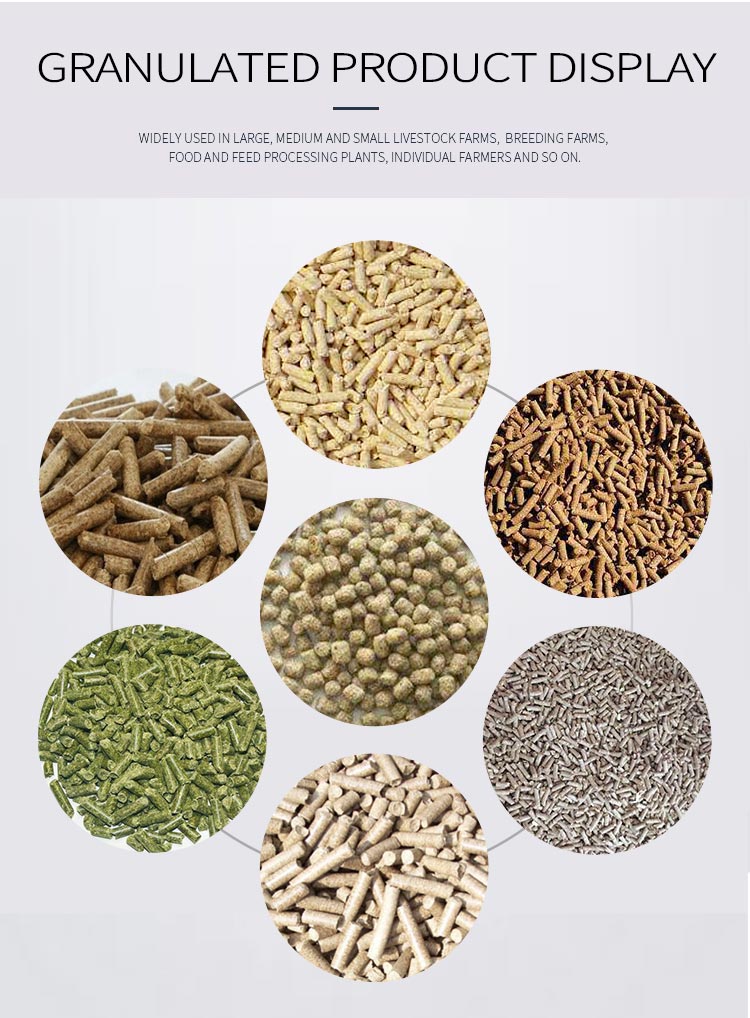 a. For pig, the pellet diameter is usually ø3.5-6.5mm.
b. For cattle, the pellet diameter is usually ø4.5-8mm.
c. For chicken, pellet diameter is usually ø3.2mm.
d. For fish, pellet diameter is usuallyø2.0, ø2.5, ø3.0mm.
e. For shrimps, pellet diameter is usually ø1.0-ø3.5mm.
Pellet length is customized.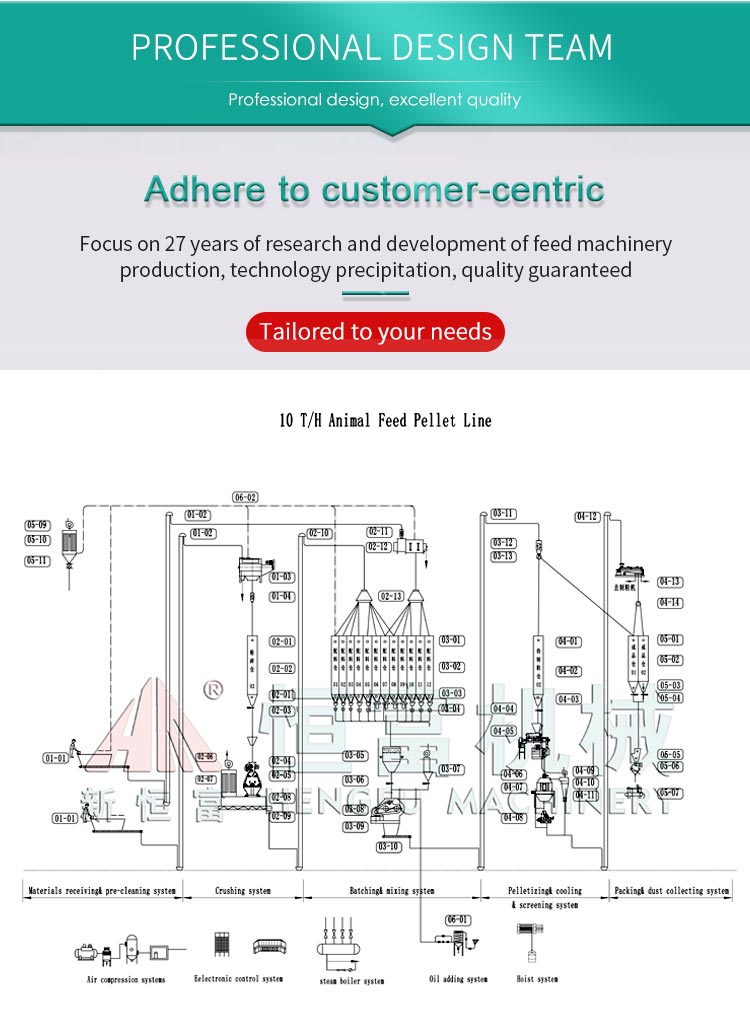 1,Raw material receiving and cleaning process
The raw materials are transported to the factory, and after weighing and weighing in the ground, the materials are manually unloaded to the corresponding storage space of the raw material warehouse for stacking.
2,the crushing process:
At the time of production, the material to be pulverized is manually transported to the raw material feeding port, the material is weighed, and the pulverizer and corresponding equipment are started. The material enters the pulverizer through the air transportation pipe, and the pulverized material directly falls into the mixing chamber of the mixer for mixing.
3, the mixing process:
The material enters the mixer and begins to mix. After mixing, the material flows through the discharge port to the screw hopper feed hopper, and enters the granulation bin through the spiral hoist.
4,granulation, cooling process:
The mixed material enters the feeder and the modulator through the granulating bin, enters the granulator for granulation, and after granulation, the winder enters the cooler to start cooling, and the cooled material is sieved to the finished material through the vibrating sieve. Directly into the bag for packaging.
If you don't enough budget ,cooling system is optional , you can put finished feed under sun for cool and dry.Above is completely animal feed pellet production line ,use ring die pellet machine.