What is good about the vertical ring die pellet machine?
We all know that the ring die pellet machine is more expensive than the flat die pellet machine, but the specifics are a bit unspeakable. Let me talk about its advantages and precautions for use today.
1. The vertical feeding method is adopted, and the materials are directly in place.
2. The mold is stationary, the pressing wheel rotates, and the material is centrifuged, evenly around.
3. The mold has two layers, and it can be used up and down to reduce costs and increase efficiency.
4. The ideal structure of the ring mold is conducive to the cooling and cooling of the granulation chamber.
5. The use of independent frequency conversion discharge device to effectively ensure the molding rate of particles.
6. The vertical structure has high pressure, high output and good stability
7. The maintenance cost of pellet machine is low, easy to operate, and the shaping effect and output of pellet machine can be controlled in the whole process.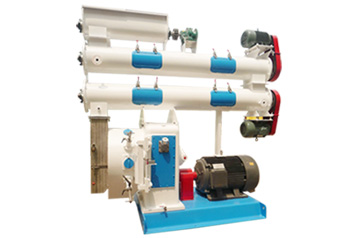 Henan Hengfu ring mold pellet machine is an important equipment of each feed factory, so the correct use of ring mold pellet machine directly affects the economic benefits of the feed factory. How to use and maintain the pellet machine correctly is a major issue for the feed factory to improve production efficiency. The following describes the matters needing attention in the operation of the ring die pellet machine:
1. The equipment should be greased once at the refueling site for 50 hours of continuous use and checked in time.
2. Remember to install a leakage protection zone before using the machine. Test the machine with an empty machine and know that the machine is running normally before processing the feed.
3. The raw materials must do the work of removing iron and impurities, to avoid the obligation to enter the ring mold working room, the vibration of the fuselage and the phenomenon of the ring mold machine cracking.
4. The production process must not exceed the capacity of the treatment and the work it can bear, otherwise motor damage and accelerated wear of components will occur, shortening the service life of the granules.