Procedures for receiving and cleaning feed materials
Ⅰ. Raw material receiving: It is the process of putting various raw materials required by the feed factory into storage or directly put into use through a certain procedure. Generally it is 3-5 times of the production capacity of the feed factory.
Ⅱ. The general procedures for receiving raw materials: raw material transportation-quality inspection-measurement and weighing-cleaning-measurement-storage.
Ⅲ. The raw material receiving equipment mainly includes:
 1, weighing scale,
 Zhongheng, Mechatronics, Electronic Scale, Mechanical Platform Scale, Electronic Scale.
 2. Cutting pit, is also called cutting pit and ground pit. Raw materials enter the raw material receiving or processing program through the cutting pit. There is often a ventilation and dust removal system, and the lower bevel is not less than 60 degrees.
 3. Conveying equipment,
 4. Cleaning equipment,

There are three main types, grid screen, magnetic separation, cleaning screen
 5. Raw material storage. It is usually a steel structure, carbon steel structure or concrete structure. It occupies a small area and has a high degree of mechanization, which can ensure the quality of materials.
 Ⅳ. Raw material receiving process
 1. Bulk receiving technology: Raw materials for bulk trains or bulk trucks entering the venue are weighed by the truck ground scale and the railway track, and then automatically discharged to the discharge pit. Bagged by manual feeding or machine feeding.
2. Waterway receiving of raw materials
 Pneumatic conveying device is composed of suction nozzle, material pipe, unloader, shut-off fan, dust collector fan, etc. Divided into mobile and fixed, the advantages are less dust, clean suction, simple structure, easy operation, and the disadvantage is high energy consumption.
3. Reception of liquid raw materials
 Liquid raw materials should be inspected before receiving and input into the storage tank after passing. Storage tanks generally have two types of inclined bottom and conical bottom.
 V. Cleanup of raw materials
 Purpose of cleaning: removing sand, dander, straw, iron and other debris contained in grains, ensuring safe production of processing equipment, reducing equipment loss and improving production environment.
 Commonly used cleaning equipment: grid screen, cleaning screen, magnetic separation equipment.
 1. Grid screen: set in the first process, the corn gap is generally 30mm, and the oil platinum cake is 40mm.
 2. Initial cleaning sieve: mesh belt type cleaning sieve, cylindrical outlet sieve, punching cone initial sieve, vibrating initial sieve.
 3. The principle of sieving; it is based on the particle shape, width and thickness of the material particles. Let them pass through the screen surface to become a sieve, separated from impurities.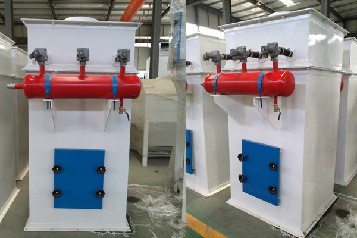 VI. Magnetic Separation Equipment
 1. Significance of magnetic separation: Effectively prevent the metal impurities mixed in the main and auxiliary raw materials from entering the next process, causing mechanical loss and damage.
 2. The principle of magnetic separation: the use of feed materials and magnetic separation metal impurities in the magnetic susceptibility difference to remove magnetic metal impurities.
 3. Commonly used magnetic separation equipment: castor magnetic separator, flow tube magnetic separation equipment, permanent magnetic cylinder magnetic separator, permanent magnetic drum magnetic separator, primary cleaning magnetic separator.